Taxidermy Talk Contributors
Aaron Stehling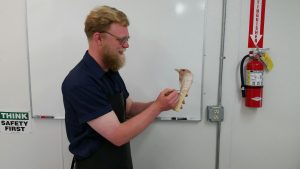 Aaron Stehling is a second-generation full time taxidermist from Jefferson, WI. He is co-owner, with his brother Austin, of Stehling's Taxidermy LLC, a studio that specializes in wholesale/sub contract work that has been in operation for over 40 years. Stehling's Taxidermy also offers a turkey head freeze dry service. You can learn more about his services at www.stehlingstaxidermy.com or check out their online video training web site, www.taxidermyinsider.com. Aaron is also the administrator on www.taxidermytalk.com forums. He is a regular contributing author in Taxidermy Today magazine. You can contact him at 920.674.3724 or email a.n.stehling@gmail.com.
Austin Stehling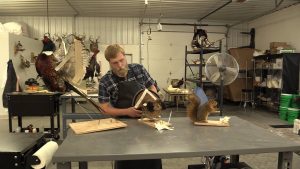 Austin Stehling is a second generation taxidermists with extensive experience in many different fields of taxidermy. Austin is manager and lead taxidermist of the Bird and Big game departments at Stehling's Taxidermy.  Along with being a full time taxidermist, Austin owns the AJ Stehling Company. The AJ Stehling Co specializes in web site development, programming, and business consulting for online marketing and social media.
D. Price
D. Price is owner and operator of Outback Taxidermy since 1993, a full time taxidermy studio in Youngsville, North Carolina. Over his many years of experience, dating back to 1986 as an apprentice at Carolina Fur Dressing Co. in Raleigh, North Carolina, D. has developed unique skills as well as techniques that he uses in his every day taxidermy projects. He specializes in mammal taxidermy, and with his 18 years of experience in the fur dressing side of the industry, he is well versed in the field of hair on tanning as well as skin preparation.
CJ Herring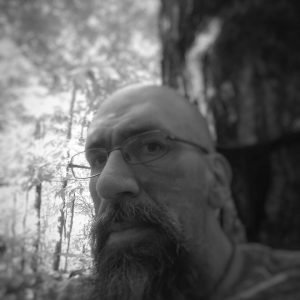 With over 20 years in the industry CJ Herring has dedicated his life to art of taxidermy. Born and raised in New York, CJ owns and operates Cliffords Taxidermy within the county of Otsego, NY. Licensed and certified he has experience in all phases of taxidermy. From small animals to full body mounts along with birds and fish, there is nothing he won't take on. CJ specializes in turkey taxidermy, whitetails, cold water and warm fish, along with any and all small mammal taxidermy.
Steve Yawn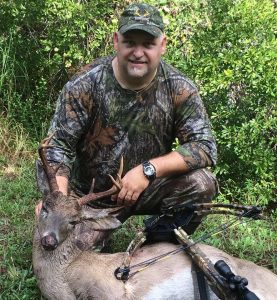 Steve Yawn is 46 years old and has  been hunting for over 32 years.
Turkeys are his favorite quarry
. Steve is a Pro-staff member for TenPoint crossbows and has been a taxidermist for over 12 years.
Michael Shipman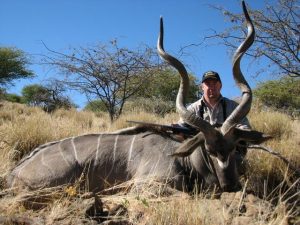 Michael Shipman is co owner along with his wife Frankie Shipman of Shipman's Taxidermy Studio located in Cohutta Ga. Where both are full time employees. He has around 20 years of experience in the taxidermy business. Mounting animals from all around the world. Specializing in large mammal's particularly African game. He also has a passion for mounting turkeys. They also operate a wholesale rugging business called Shipman's Wholesale Rugging. This business started as a subsidiary business for extra income but has grown substantially over the years with very little advertisement mostly by word of mouth. He can be reached at
706-694-4144
or
shipmanstaxidermy@windstream.net
Bruce Foster
Like so many boys growing up, I had always hoped to someday be able to make a living doing what I enjoyed so much……being outdoors, and anything having to do with nature. My growing passion for animals in any form, and my obsession with fishing built a foundation and a wonderful understanding to all the ways to enjoy the outdoors and everything in it. I loved to draw and paint, and spent countless hours learning to put what I had seen on paper. Fish were a favorite subject and specimens were readily available at the docks in Oyster Bay, LI. "Sagamore Hill", Teddy Roosevelt's home was just around the corner, and it was there, after many trips to view his trophies, that my interest in taxidermy spurred a lifelong passion.
Ed Hancock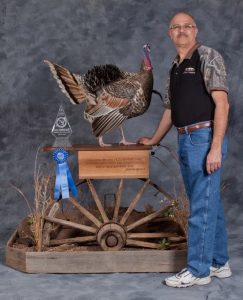 I'm Ed Hancock, I'm owner of Full Fan Taxidermy in Lexington, Ky. which specializes in turkeys. I've been in the taxidermy field for over 40 years. I've have taken the WASCO Award,McKenzie Award & numerous 1st places awards with my turkeys. I'm looking forward to being a contributor to Taxidermy Talk to share advice,tips and what ever else we all want to talk about.
Rob Cunningham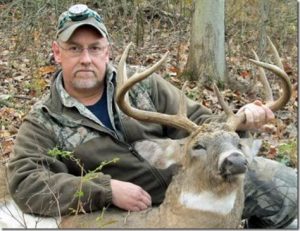 I have been hunting for 46 years. Turkey hunting is my passion. I have been a taxidermist for 27 years, specializing in Whitetail deer, but I mount all North American game as well. I am a Life Member of the National Taxidermists Association. I was born and raised in Licking County Ohio, where I still live with my wife of 31 years, Vicky.
Denny Murawska
Denny Murwaska has been a professional taxidermist for over 35 years. " I have only one passion in this field, fish and the painting of such marvelous creatures."With an MS in biology, I put knowledge and passion into each artistic venture., and helped develop some fish eyes in Europe.I examine each fish I catch, and their eyes are true gems.I have been a professional writer and columnist for many years in the outdoor arena, and currently write for On Wisconsin Outdoors, UP Magazine,and I am a regular contributor to Breakthrough magazine, a leading taxidermy publication. Retired now from teaching,I live mostly in the Wisconsin backwoods Coulee country of rugged hills and valleys full of trout , as well as part of the year in the Caribbean. A truly blessed life.
Want to become a contributor?
Fill out the form below and we will send you some more information.
[gravityform id="2″ title="false" description="false" ajax="true"]