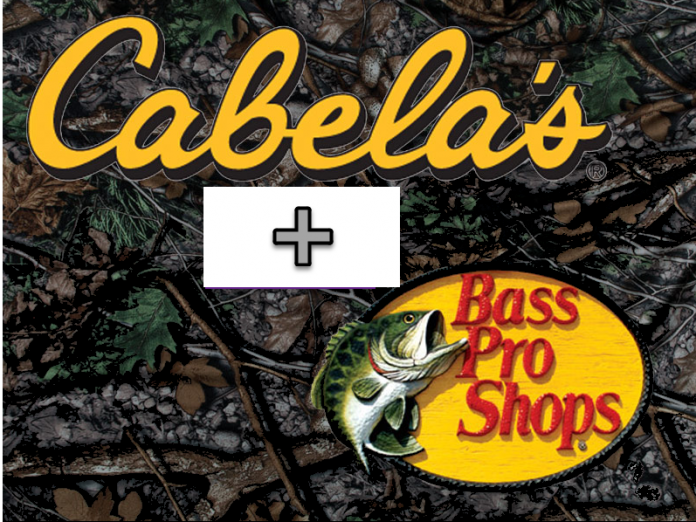 TTN- Bass Pro Shop CEO Johnny Morris released a letter today to the employees and customers of both Bass Pro Shops and Cabela's . The letter is in response to the recent acquisition of Cabala's by Bass Pro. The major take away here is that for the time being it will be business as usual at both stores, and most notably the Cabela's brand will stay as is.I have  included the letter in it's entirety below.
"I write this letter with the belief that it represents the most important expression of deeply held convictions regarding the future of our company that I may ever have the opportunity to convey. There is no way I can begin without first saying, THANK YOU TO EACH AND EVERY ONE OF YOU! Your hard work, passion and dedication to applying your extraordinary talents have made possible the exciting announcement we're making today.
This morning it is with tremendous pride and humility that I share with you the great news that Bass Pro Shops and Cabela's have agreed to combine our two legendary brands to create a truly premier retailer in outdoor sporting goods. This merger of resources, experience and passion for the outdoors represents a unique opportunity for both organizations and their respective team members.
For many years I have believed there is a remarkable strategic fit between our companies. The prospect of bringing together our time-tested, iconic outdoor brands: Cabela's — a leader in hunting, Bass Pro Shops — a leader in fishing, and White River Marine Group — a worldwide leader in boating, is very exciting!
In my view this really is a "once in a lifetime" opportunity for both of our companies and clearly provides the foundation to create a "best of the best" shopping experience for all outdoor enthusiasts worldwide for generations to come. I truly believe combining our two companies in this transaction will benefit our collective associates and our vendors while enabling us to enhance our service and expand our products to better serve our valued customers.
I have enormous admiration for Cabela's and the remarkable brand and business they have built. Cabela's is a great American success story. Dick, Mary and Jim Cabela started the company at the family kitchen table when Dick decided to place an ad to sell fishing flies. From that humble start, the Cabela's family, along with a remarkable team of "outfitters" has grown to become one of the premier specialty retail companies. Today Cabela's nearly 19,000 outfitters operate 85 stores across the United States and Canada, offering merchandise and equipment for hunting, fishing, marine use, camping and many other outdoor activities as well as a best in class direct and e-commerce business.
Both of our companies share a remarkably similar heritage, each starting very small and growing over time thanks to the hard work and passion of many remarkable team members. The combination of our two companies will honor and build upon this legacy. Bass Pro Shops has every intention of celebrating and growing the Cabela's brand. We will work hard to foster the qualities that customers love most about both Bass Pro Shops and Cabela's. The spirit of this agreement is about adding to our great brands and creating increased stability and opportunities for our team members.
We also believe this new combined company and its significant outdoor database of sportsmen and women will be of great support to White River Marine Group and our hospitality division which includes Big Cedar Lodge, Big Cypress Lodge and Wilderness Club Vacations. It will also benefit our conservation attractions including Dogwood Canyon Nature Park and the Wonders of Wildlife National Museum and Aquarium soon to open in Springfield.
As you know, conservation is at the heart and soul of Bass Pro Shops. Cabela's has an admirable legacy in conservation as well. We share a steadfast belief that the future of our industry, and the outdoor sports we all love, depends — more than anything else — on how we manage our natural resources. By combining our efforts with Cabela's it is my personal belief we can have a profound positive impact on the conservation challenges of our day and help foster the next generation of outdoor enthusiasts.
Under this agreement our company will remain private with a long-term view to do what is best for our people, our customers and to maintain our steadfast support for conservation.
While we are excited to align forces with Cabela's, it must be noted that today's announcement is only the first step in the process. The transaction is expected to close in the first half of 2017, subject to the customary conditions and reviews. Until that time both businesses will continue to operate as separate, independent companies.
Throughout this process our commitment to serving our customers needs to be our number one priority. As we move forward, I will update you on our progress.
A PROUD PAST — A BRIGHT FUTURE TOGETHER!
Yesterday afternoon at our company picnic I had the opportunity to visit with quite a few of you including several who have been an important part of our company for many years now. Knowing what might happen today I couldn't help but think of where we have come from together as a team. It has been a truly remarkable journey that we have shared. I reminded myself that it has no doubt been much the same for the fine folks at Cabela's. Just like us, they started their business from scratch and worked hard to see their company grow.
We can all take much pride in knowing the wonderful outdoor memories we have helped to create for so many. It is even more exciting to think about the remarkable possibilities that lie ahead and our bright new future together!
FREQUENTLY ASKED QUESTIONS
What will happen to Bass Pro Shops and/or Cabela's stores?
It is business as usual at Bass Pro Shops and Cabela's and there will be no immediate impact to our stores.
What will happen to my existing Bass Pro Shops and/or Cabela's rewards, program points, and credit cards?
All Bass Pro Shops Outdoor Rewards and Cabela's CLUB points will be unaffected by the transactions and customers can continue to use their credit cards as they were prior to the transaction.
Bass Pro Shops recognizes the strength of Cabela's CLUB loyalty program, intends to honor Cabela's customer rewards and sees potential over time to expand the program in the combined company.
Following the transaction, Capital One will service Cabela's credit card business.
Where can I use my Bass Pro Shops or Cabela's gift cards?
At this time, Bass Pro Shops gift cards can be used at Bass Pro Shops stores and Cabela's gift cards can be used at Cabela's stores.
What will happen to the Cabela's brand?
Following the closing of the transaction, we intend to celebrate and grow the Cabela's brand, and will foster qualities that respective customers love most about both Bass Pro and Cabela's."