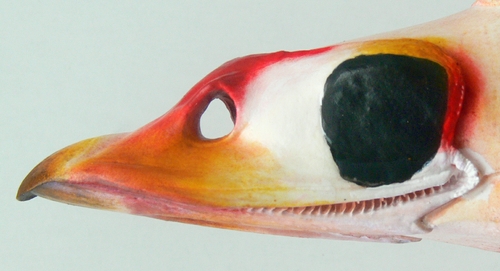 I paint a ton of fish in my studio, and have the best airbrushes available. after years of frustration, I wanted to try finding a more realistic way to finish bills and feet, not only saving a ton of time from color cup cleaning, but to also have a more intimate connection between finishing and application of some different mediums. I thank my good friend Rick Krane for sharing some of his methods and techniques for finishing fish, and I used those methods and applied them to finishing birds. so, I would like to share some of that hear for those that might find it helpful. this is my method to finish a Drake Surf Scoter. hope all will enjoy
Some of the materials I use for finishing bills and feet:
Derwant Water Color Pencils, Pan Pastels, Folk Art Paint, Water Based Paint, Fine Powdered Charcoal, Woman's Make up, Hair Spray, Scrubber Brushes, Rubber tipped brushes, rattle can primers and Matte Clear rattle can final finish. besides your local Dollar and hardware store, here are good places to find the art supplies:
http://www.dickblick.com and http://www.jerrysartsarama.com
pic #1 shows some of the materials I use and the Derwant Water Color Pencils
pic#2 shows some of the Woman's Make up
pic#3 shows some of the other materials listed
I usually finish the lower bill first, but do block in any defined black areas on the whole bill with Folk Art water based paint. the best color for this is the color called Licorice. I then block in the jaw on the lower bill as well with water based paint and a brush. these are then sealed down with Ultra Cover Matte Clear and allowed to dry. you can speed that up with a hair dryer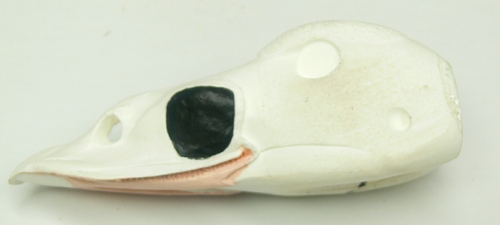 I then move to finishing the lower bill that has been blocked in with the natural flesh water based paint.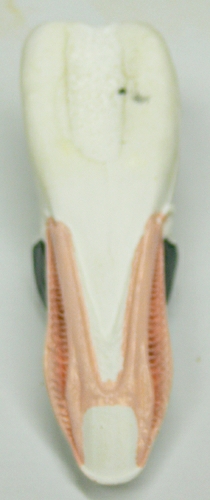 the soft tissue between the lower jaw is blended with Pan Powders. Titanium White and Permanent Red Tint I then start to blend the lower bill itself, still with Pan Powders. here I use the colors Diarylide Yellow shade and Yellow Ocrhe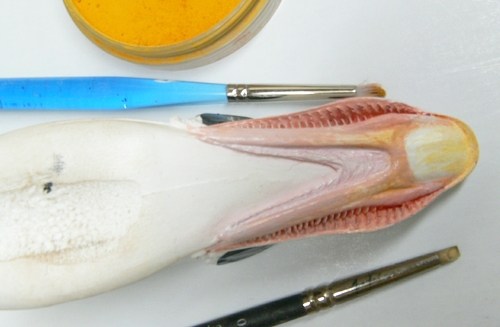 I then high light still with Pan Pastels the end of the bill. Orange Shade, Permanent Red and Red Iron Oxide. I forgot to mention in my previous post, that I seal down the powders between each color with hair spray if you don't want to blend. if you want to blend between two powder colors, do not seal. the hair spray locks down your colors without building up a finish that can take the detail away from the bill, like many finishes can. Mod Podge is, IMO, is the worst medium to use on bills and feet
I then finish shading with both powders and watercolor pencils. you can go over your sealed work to adjust the colors and intensity. this gives you the opportunity to put in some contrast on you bills like you will see on live ducks. everything is not blended in nature.
here I did some more high lighting, and finished with burnt umber, raw umber and burnt sienna. it was then sealed with hair spray, and the whole lower bill was dusted with Pan Powder Titanium White. this will pull all the colors together and give you a more natural, and blended tone to your finished work. once satisfied with the end result, I lock it all in with lacquer based rattle can MatteClear
the under bill completed. upper bill next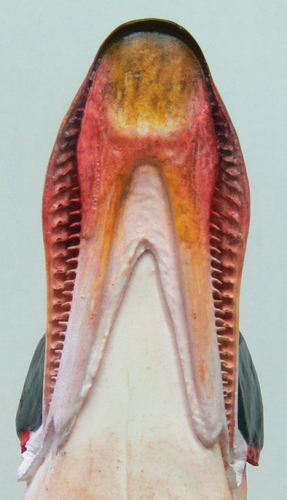 not to be redundant, the upper bill finish has all the same colors, materials and application as the lower bill. I do however use a small amount of woman's makeup at the start, and is sealed down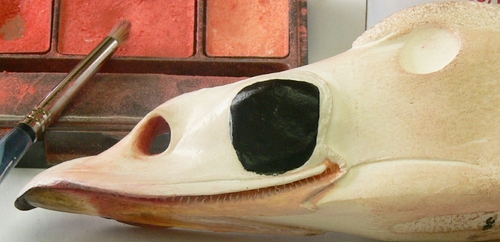 the same color sequence is applied to the upper bill. starting with the yellow powders listed above, then moving to adding in the red detail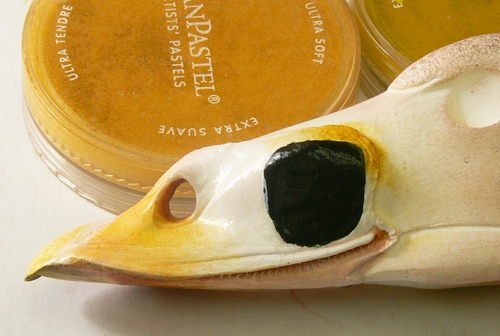 once you are satisfied, and your color detail is finished and sealed with Matte Clear, I go back over, and detail the black patch with Folk Art Licorice. your done! I hope this might be helpful for all forum members!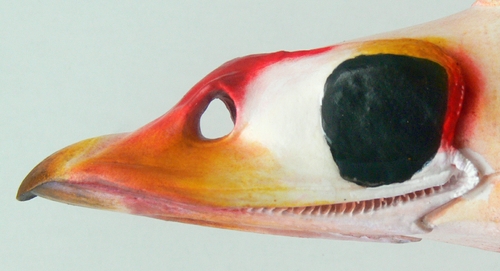 finished Drake Surf Scoter bill: top, side and bottom