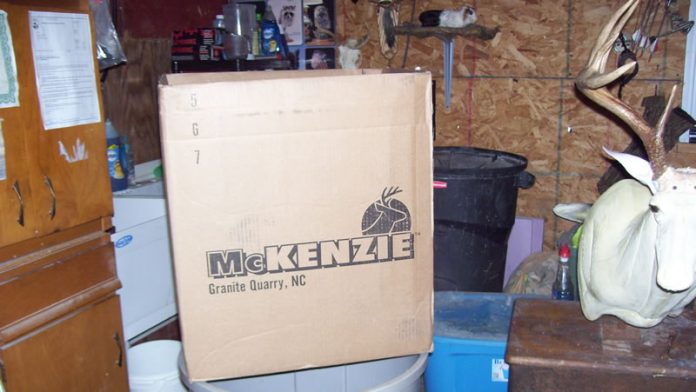 If you don't know what or who McKenzie Taxidermy (McKenzie Sports Products, LLC) is, then you don't know very much about taxidermy or should I say the Trump of taxidermy.  If any one supplier ever comes up for discussion on Taxidermy.net or anyone of the Facebook taxidermy groups it would be that of McKenzie Taxidermy.  It's no secret McKenzie gets a bad rap in most of those discussions and if you ask me it's always about their shipping department.
Before we get going you may look at this article as review of McKenzie or a plug for McKenzie but I am only speaking from experience. I do not work for McKenzie nor do I have any strong relationships with the company.  This article has not been endorsed by McKenzie and in no shape or form have I been contacted by anyone to write such an article.
Founded by Larry McKenzie thirty or so years ago, I do believe they are now the largest taxidermy supply company within North America which is headquartered in Salisbury, NC. In November 2010 the Triangle Capital Corporation invested $6.0 million dollars into McKenzie Taxidermy. In October 2016, McKenzie purchased the assets of Knoblochs Chemicals. Knoblochs Chemicals is a major player in the taxidermy field has been providing products to the taxidermy industry for decades. As of this date McKenzie Taxidermy now has 5 distribution centers strategically laid across the United States, Ogden Utah, Caldwell Texas, in Beloit Wisconsin, Camp Hill Pennsylvania and Salisbury North Carolina.
I could keep going on and on about the accomplishments McKenzie has achieved in the last 20 years, but I would need to write a book. Some the biggest business moves that come to my mind when I hear the name McKenzie is their acquired purchases of VanDykes and W.A.S.C.O. Those two companies are the ones that got me going into taxidermy decades ago. My first ever supply order was from VanDykes.  I had never heard of McKenzie until they had bought out those two major suppliers. McKenzie has kept their promise and to this day I'm still able to buy taxidermy products that were originally developed and branded by those two companies. So to this day you will still hear the names VanDykes and W.A.S.C.O. within the taxidermy community.
I have heard the argument amongst taxidermists, that McKenzie is becoming a monopoly. Yes it's true the company has acquired many other taxidermy supply business which means there is less of a choice today then there was 10 or 15 years ago when ordering taxidermy manikins from different companies.  But I can tell you this; I bet there are at least a dozen catalogs that still sit on my desk. All from different taxidermy supply companies and all who are still in business today. So that theory or argument that McKenzie is taking over the world doesn't hold water in my books. Last I checked they (McKenzie) are not stopping, discouraging, and or threating anybody with half a brain from starting up their own taxidermy supply business.
The biggest complaint I get from fellow taxidermists is that McKenzie charges too much to ship its products. About once a month sure as the sun sets there will be a new post or comment somewhere on the net that bashes McKenzie on their shipping practices. It's getting so old now I don't even pay attention or bother replying to those negative and misinformed threads. As far as I'm concerned their shipping and handling charges is spot on. I have never felt I have been overcharged or scammed on the shipping. If you didn't already know you are in full control on who delivers your package.  McKenzie gives you that option during check out. Remember you're not just paying for the actual costs of the shipping. That box and packaging material costs money too. They are not just going to give it to you. All that stuff, the boxes and packaging material like bubble wrap is recyclable, stuff that can be re-used at a later date.  If you're a full time taxidermy shop, you're just not receiving taxidermy, your also shipping it. In no time you will have a small supply of bubble wrap and boxes of all sizes if ordering on a weekly or monthly basis.
Shipping prices will continue to rise every year by all the major carriers. McKenzie runs a business and adjusts accordingly and you should too. Sure McKenzie gets discounted rates from the major carriers like UPS and FedEx and they should. If you feel they should pass down those discounts to their customers then I think you missed class on the day they taught business 101. Every year thousands of taxidermists attend local, state and national taxidermy shows, events and competitions. At almost all these events they are able to buy deer manikins directly from the manufactures and take them home. Not only do you as the taxidermist get to write off all expenses for the trip, but you also didn't have to pay any shipping for those manikins you threw into the back seat for the trip home. So are you now going to lower your deer mount price for your customers because you saved a good chunk of money? I think not. If you are not adjusting your mounting prices to reflect increases in delivery of your taxidermy supply, then you will be out of business. Taxidermists are the worst business people on the face of the earth as far as I'm concerned and I see so many go out of business for this exact reason.  The guys and gals who are charging $600 to $800 to complete a deer mount get it and understand the dynamics of overhead costs and most importantly the shipping costs associated with taxidermy. It isn't because their work is worth that much, it's because it costs money to do a mount and their goal to come out ahead with a profit when all said and done.
My theory on those who complain about the high shipping charges attached to their McKenzie invoice, are those who take in way too many deer at a low ball price and or those who don't have a clue on how to run a business in the first place.  If you're placing a small order, like for eyes, have them shipped via USPS, not UPS, its common sense. On larger orders like deer manikins for me Fedex Ground is the cheapest rate. For others it might be UPS. The box you see pictured in this article held a wall pedestal manikin along with other goodies and was shipped via FedEx at a charge of $20.00 during the month of January 2017. I can live with that and for one second wouldn't even give a double take on that shipping charge. Actually for 2017 that's a good price since other suppliers have charged me $25 to $30 to ship one deer manikin.
If there is anything I love about McKenzie is the speed in their shipping. 90% of all my orders placed via the internet are here at my doorstep within 24 hours. When it started happening I thought it was just a once in a lifetime fluke. Then it kept happening and I do believe the credit goes to the Camp Hill, PA facility servicing the northeast sector of the US. No other taxidermy supply company has ever delivered to my shop with such speed and accuracy before. My boxes are also not crushed or ripped open upon arrival either. Whoever does the packing also knows how to pack an item properly and securely. I hope and pray that this type of service continues well into the future. Common sense will tell you though not everyone will get their supply order within 24 hours it's just not going to happen for certain parts of the country.
Just like any other taxidermy supply company I have dealt with, there have been a few hiccups with McKenzie over the years. Not all transactions have been smooth, but then again I can give you the names of a few other big name supply houses that have screwed up more than once with my supply orders, including one nationally known taxidermy supply business that overcharged my account by a few hundred dollars. Small problems over the years with McKenzie I've had range from billing to missing items and a few other minor inconveniences. However there has not been one issue ever un-resolved with just a simple phone call.  They have a department called customer service, and I highly recommend calling it if an issue ever arises with your order. Remember the young lady on the other end of the line had absolutely nothing to do with shipping your box or deciding on how much to charge you for shipping. Cut them some slack and don't go off the deep end when calling in a concern.
As far as products go, McKenzie Taxidermy has some of the best quality. Their deer, turkey and waterfowl manikins are some of the best out there. I've used them all and will continue to. Their library of DVD's cover just about every subject related to taxidermy.  If you're looking for a good whitetail mounting video I highly recommend A to Z by Rick Carter, an original W.A.S.C.O product now distributed by McKenzie Taxidermy. Their line taxidermy airbrush paints are the best of the best and all I actually use.
In closing I want to address that there are other supply companies you can deal with if you're unhappy with McKenzie Taxidermy. It is what it is; they are here to stay and I suspect they will continue to grow in leaps and bounds. Love them, hate them, McKenzie Taxidermy is the Trump of taxidermy.